Harry C. Albrecht - Biographical Information
Harry Albrecht was born in 1936 in Dunkirk, New York and graduated from high school there in 1954. He spent the next three years in the USMC as an aviation electronic technician.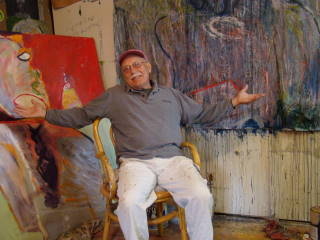 He attended Santa Ana and Costa Mesa Junior Colleges on the West Coast, attended the University of New York at Fredonia before graduating from the San Francisco Art Institute in 1961 with a BFA.
After briefly attending graduate school at the University of Buffalo, studying poetry under Peter Redgrave, he began painting full time. Influencing artists include Richard Fraenkel, Jack Jefferson, Frank Lobdell, Manual Neri, Joan Brown and Ben Perrone.
Though he regards himself as an 'Underground' painter, Harry has exhibited in many venues and his work is in private collections on the East and West Coast.
Mr. Albrecht works in various art media and milieu.  He regards two factors as most important for his work: life experiences through travel, teaching and political involvement and the continual disciplined study and investigation of history and philosophy.
He now enjoys living and painting on the California Mendocino Coast, where he frequently shows his work.